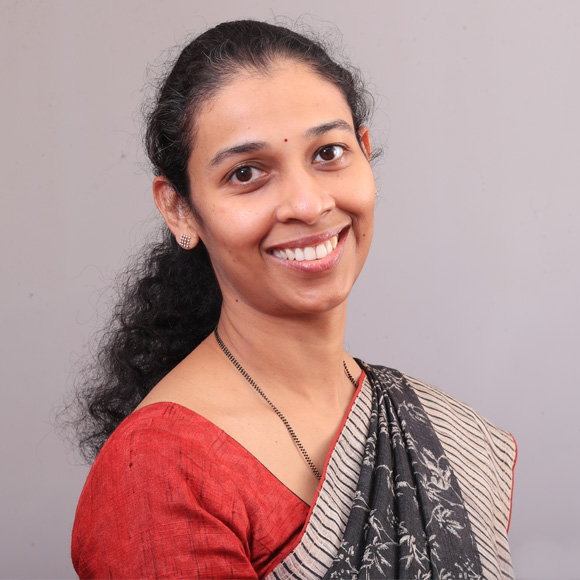 Dr. Surya Jayaram
Consultant Gynaecologist
---
MEDICAL QUALIFICATION
MBBS, MS, DGO, FMAS, MRCOG
DOCTOR'S EXPERIENCE
Senior Specialist, Women's Health, Aster Medcity, Kochi from May 2015 to August 2021.
Assistant Surgeon, Government Health services Kerala, from October 2012 till April 2015.
Medical officer (Tuberculosis Control ) Kasaragod,Government Health Services , Kerala from August 2007 to June 2009.
Junior doctor, Dept of Interventional Cardiology , Ananthapuri Hospitals and Research Institute, Trivandrum from December 2006 to July 2007.
EDUCATION
MRCOG (UK) (May 2021)
MS in Obstetrics and Gynecology : Government Medical College, Kottayam(2012)
Diploma in gynecology and Obstetrics :Government Medical College ,Kottayam(2011)
MBBS: Government Medical College, Trivandrum, Kerala, India (Oct 2000- Aug 2005).
Internship: Dec 2005-Nov2006
TRAINING
FMAS (Fellow in minimal access surgery) AMASI ,October 2017
Structured training in repair and prevention of perineal injuries (AICC RCOG), October 2019
FOGSI-FMFI certificate course in Ultrasound in Pregnancy ,November 2020 to March 2021
PROFESSIONAL ACTIVITIES
FOGSI ,Federation of obstetrics and gynecology society of India.
AMASI ,Member of association of minimal access surgeons of India.
Life member, Indian Medical Association
PROFESSIONAL EXPERIENCE
Provide medical attention for women during menstrual periods, conception, pregnancy, birth and post partum stages.
Discuss with expectant mothers about reproductive health, child birth procedures and maternal concerns.
Monitor reproductive health conditions and treatment progress and document findings and observations.
Re evaluate treatment programs as necessary.
Determine if normal or caesarean child birth is in order.
Perform caesarean section as may be needed to preserve both mother's and baby's health.
Perform vaginal delivery,high risk vaginal deliveries.
Perform minor surgical procedures.
Perform infertility -basic evaluation and treatment procedures.
Perform major gynecological surgeries.
Perform diagnostic and operative laparoscopic surgeries -major and minor
Refer patients when suspecting ailments beyond competence to treat
ACHIEVEMENTS
Winner of FOCUS 2011 quiz competition on Medical Disorders of pregnancy inThrissur, August 2011
Winner of Dr.B.Mukherji Memorial Quiz competition,AKCOG ,Kasaragod,February 2011
Winner , Poster competition, AKCOG 2010 ,Kottayam ,Feb 2010
PUBLICATIONS AND PRESENTATIONS:
A clinical review of obstetric hysterectomies done in medical college, Kottayam for a period of six years (International Journal of Reproduction, Contraception, Obstetrics and Gynecology Jayaram S et al. Int J Reprod Contracept Obstet Gynecol. 2016 Feb;5(2):482-486)
Poster presentation –"Atypical locations of Leiomyoma -case report"- in AICOG 2017, Ahmedabad, Gujarat,India
I poster on "Robotic Surgery-Evaluation of Experience with hysterectomies at a single centre" in RCOG World Congress 2019, June 2019
Aggressive angiomyxoma vulva. International Journal of Reproduction, Contraception, Obstetrics and Gynecology, [S.l.], v. 9, n. 12, p. 5131-5133, nov. 2020. ISSN 2320-1789. Available at: https://www.ijrcog.org/index.php/ijrcog/article/view/9174
Vaginal leiomyoma in a post-menopausal woman. Indian J Obstet Gynecol Res 2021;8(1):130-132
A case of pregnancy associated with the rare yellow nail syndrome: An overview and review of literature. Indian J Obstet Gynecol Res 2020;7(2):280-282