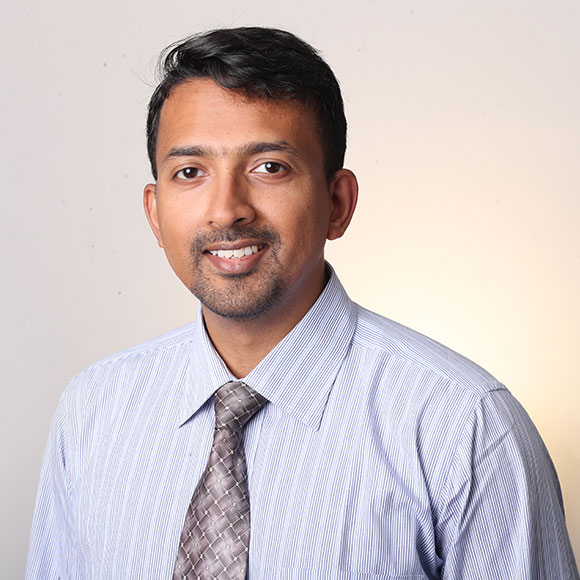 Dr. Sudheesh Ramachandran
Consultant Neuro Surgeon
Dr. Sudheesh Ramachandran pursued his M.Ch and graduated from the prestigious National Institute of Mental Health and Neurosciences (NIMHANS). He has received the 'Best Outgoing student' award from the Union Health minister of India. After completion of his training, he underwent clinical fellowship training in Pediatric neurosurgery from British Columbia Children's Hospital, Vancouver, Canada under the tutelage of internationally renowned Dr. Paul Steinbok and Dr. Douglas Cochrane. His chapter on 'Achondroplasia and hydrocephalus' was widely received in the international platform and was published by Springers. Following this, he completed a clinical fellowship in peripheral nerve surgery under Dr. Rajiv Midha in the University of Calgary, Alberta, Canada. His research work on supercharge end to side transfer was published in a reputed journal. He furthered his career by pursuing another clinical fellowship in Neuro-oncology with Dr. Garnette Sutherland, who was one of the pioneers of the intra-op ceiling type MRI. During this period, he has operated on hundreds of brain tumours and gained tremendous experience in brain tumour surgery using state of the art infrastructure such as neuronavigation, cortical mapping and intra-op MRI. Dr. Sudheesh Ramachandran has also undergone fellowship training in complex spine surgery in University of Utah, Salt Lake City, Utah, USA. He is proficient in simple and complex spine surgeries including craniovertebral junction pathologies, cervical and lumbar spondylosis and degenerative deformity along with minimally invasive spine surgery.
---
MEDICAL QUALIFICATION
M B B S- Academy of Medical Sciences, Pariyaram, Kannur (2007)
M Ch (Neurosurgery)- National Institute of Mental Health and Neurosciences (NIMHANS), Bangalore (2014)
DOCTOR'S EXPERIENCE
Junior Resident in Neurosurgery- National institute of Mental Health and Neurosciences(NIMHANS), Bangalore
Senior Resident in Neurosurgery- National institute of Mental Health and Neurosciences(NIMHANS), Bangalore
Non- PG Senior Resident (M.Ch Postgraduate) Neurosurgery- National institute of Mental Health and Neurosciences(NIMHANS), Bangalore
Specialist- Manipal Hospitals, Bangalore
Clinical fellowship in Paediatric neurosurgery , british Columbia children's hospital ,Vancouver ,CA
Clinical fellowship in peripheral nerve surgery, neuro oncology from university of Calgary,CA
Clinical fellowship in complex spine surgery, university of Utah, USA
AWARDS & ACCOMPLISHMENTS
Best outgoing student award for the best PG student in neurosurgery (2014)
PUBLICATIONS
Ramachandran S, Midha R. Recent advances in nerve repair. Neurology India. 2019 Jan 1;67(7):106.
Proctor DT, Ramachandran S, Lama S, Sutherland GR. Towards molecular classification of meningioma: evolving treatment and diagnostic paradigms. World neurosurgery. 2018 Aug 20.
Nadi M, Ramachandran S, Islam A, Forden J, Guo GF, Midha R. Testing the effectiveness and the contribution of experimental supercharge (reversed) end-to-side nerve transfer. Journal of neurosurgery. 2018 May 18:1-0.(1Co- 1st authors)
Renne B, Rueckriegel S, Ramachandran S, Radic J, Steinbok P, Singhal A. Bobble-head doll syndrome: report of 2 cases and a review of the literature, with video documentation of the clinical phenomenon. Journal of Neurosurgery: Pediatrics. 2018 Jan 5;21(3):236-46.
Ramachandran S, Midha R. Editorial: Outcomes of facial nerve repair using nerve grafts applied immediately following nerve discontinuity in skull base surgery. J Neurosurg 2017Apr 7: 1-4
Raghunath, Ranjan Manish, Ramachandran S, Indira Devi B, Narayan Vinayak. Primary pyogenic spinal epidural abscess: How late is too late and how bad is too bad? - A study on surgical outcome after delayed presentation. Br J Neurosurgery 2016 Feb;30(1):91-6
Padwal AD,Devi BI, Ramachandran S, Bhat DI, Shukla D, Ramu R. Occipitocervical Fetus in Fetu with Extracalvarial Extension: A Case Report. PediatrNeurosurg. 2015 Dec 18
Solanki Chirag, Ramachandran S, Devi, B.I. Calvarial Defects In The Region Of Lambdoid Suture In Neurofibromatosis Type-1 Patient. Journal of Pediatric Neurosurgery. 2015;10(1):22-24.
Ramachandran S, Solanki C, Bhat D, Sharma R. Spinal stab injury: A rare injury and individualized management. Indian Journal of Neurotrauma. 2014; 11(2):113-117.
Sharma R, Ramachandran S, Bhat DI, Devi, BI. Bilateral Carpal tunnel syndrome in 2 children- Common manifestation of an uncommon disease. Pediatric Neurosurgery. 2013;49(5):300-2.
Textbook Chapters
Ramachandran S, Steinbok P. The role of venous hypertension in the causation of hydrocephalus in Achondroplasia. Pediatric Hydrocephalus (Springer publications).
Ramachandran S, Midha R. Surgical repair of nerve lesions- Neurolysis and neurorrhaphy with grafts or tubes. (Thieme medical and scientific publishers)
Ramachandran S, Midha R. Management of pain in Iatrogenic nerve injuries. IASP.