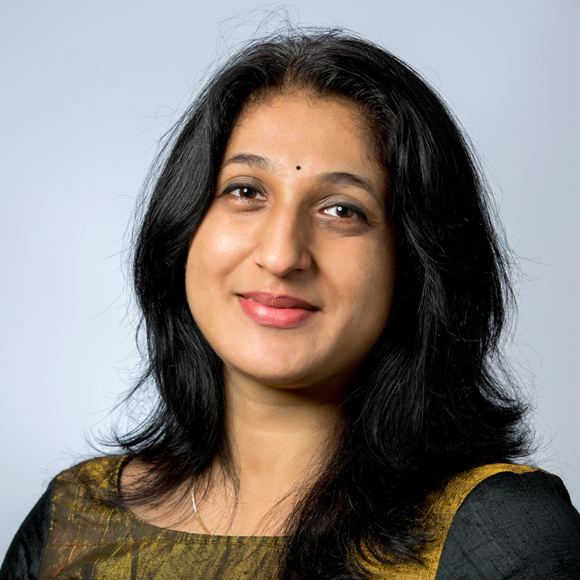 Dr. Mintu Elizabeth Joyce
Consultant Pathologist
Special interest in Gastrointestinal Pathology and Renal and Transplantation Pathology
Have undertaken ISN-ANIO Clinical Nephrology Certificate Programme
---
MEDICAL QUALIFICATION
MBBS – Govt. Medical College, Trivandrum
MD (Pathology) – Sri. Ramachandra Medical Centre, Chennai
DOCTOR'S EXPERIENCE
Consultant Pathologist – Medical Trust Hospital, Kochi (2012 – Present)
AWARDS & ACCOMPLISHMENTS
First Prize for Quiz in the state level CME - Update on Lung Tumors, March 2010. Chennai
Second Prize in Quiz in the state level Surgical Pathology CME in Madras Medical College, January, 2008.
First Prize for case presentation in Cochin Clinical Society Meet, 2012
PUBLICATIONS
Pathology of Synovial Lipomatosis and its clinical significance. Journal of Laboratory Physicians. Jul-Dec/Vol-3/issue-2; 83 – 88
A Rare Case of Prostrate Malignancy. Indian Journal of Medical Sciences; 2012; vol:66/issue:7/189-191.
A Rare Case of Nephrogenic Adenoma Mimicking Bladder Neoplasm. Annals of Health and Health Sciences; 2014/vol1:1/Issue:2/153-156.
PRESENTATIONS
Pilocytic and Pilomyxoid astrocytoma – a review of clinical, radiological, and histopathological picture. APCON 2009, Kolkata
Spectrum of Pathological lesions in HIV positive patients in a Tertiary Care Centre. APCON, 2008
Malignant mixed Mullerian Tumor. A case presentation. Clinical Society Meeting. SRM
A rare Case of Mixed Tumour-Pituitary Adenoma with Craniopharyngioma. Cochin Clinical Society Meet, MTH, 2012.