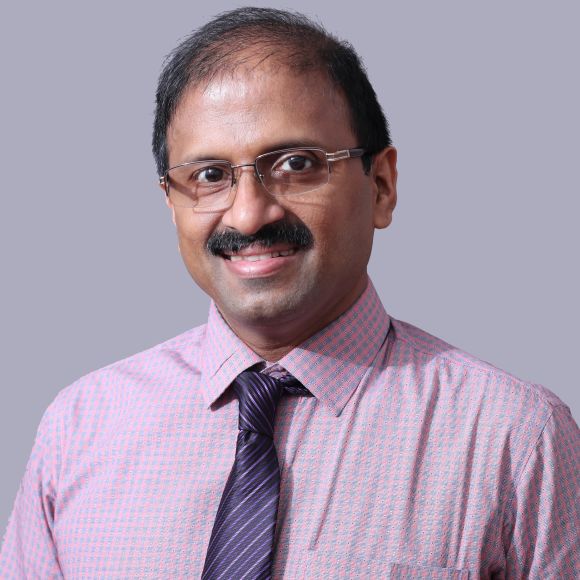 Dr. Johny Vakayil Francis
Consultant Paediatrician and Neonatologist
OP Timing
Monday - Saturday
9.00 AM - 10.00 AM ; 11.30 AM - 1.30 PM ; 4.30 - 6.00 PM
---
MEDICAL QUALIFICATION
MBBS - Government Medical College, Calicut, Kerala (1992)
DCH (Diploma in Child Health) - Government Medical College, Calicut (1996)
MD (Paediatrics) - Government Medical College, Calicut, Kerala, India (1997)
Australian Medical Council: Licensing exam: Part 1 & 2 (2010)
PGPN (Post Graduate Program in Paediatric Nutrition) - Boston University (2014)
Expertise
Ventilatory management of sick babies in Australia.
Cranial ultrasound
Transportation of sick new born babies.
Exposure to all types of Neonatal cases especially surgical cases including diaphragmatic hernia and their follow up in paediatric clinic.
Experience at the level III NICU and PICU
Ultrasound guided procedures.
Primary care of all Gastroenterology patients.
DOCTOR'S EXPERIENCE
Consultant Paediatrician and Neonatologist -Medical Trust Hospital, Cochin (Since February 2018)
Senior Paediatrician and Neonatologist - PVS Memorial Hospital, Kaloor, Cochin (February 2011-January 2017)
Clinical Fellow, New-born Services - Monash Medical Centre, Clayton, Victoria.( March 2006 to Feb 2011)
Clinical Fellow, Neonatology & Paediatrics - King's College Hospital, London (Dec. 2004 – Feb 2006)
Registrar in Neonatology - Monash Medical Center, Clayton, Victoria, Australia (July 2002 – November 2004)
I also have been working with 'New-born Emergency Transport Service' (NETS), Victoria, Australia and has been involved in transfer of nearly 25 sick neonates during this period.
Junior Consultant in Paediatrics and Neonatology - PVS. Memorial Hospital, Ernakulam (Aug: 2000 – May 2002)
Senior Resident in Department of Gastroenterology - Amrita Institute of Medical Sciences, Cochin. (Oct. 1998 – Nov. 1999)
Paediatrician - 'Holy Cross Hospital', Kodenchery, Calicut, Kerala, India. (Sept. 1997 – Sept 1998)
Post graduate Resident trainee in Paediatrics, (including 6months training in Neonatology, and 2months in Paediatric Surgery) in Government Medical College, Calicut, Kerala.
Resident Medical Officer in 'Jacob's Nursing Home', Kazhuthumuttu, Cochin, Kerala. (April 1992-May 1994)
MEMBERSHIPS & CERTIFICATIONS
IAP –NNF Neonatal Resuscitation Program – First Golden Minute Project – Regional Training of Trainers course completed successfully – Jan 2018. Nagpur.
Advanced Neonatal Resuscitation Course (Advanced NRP): Conducted in PVS Memorial Hospital, Kaloor, Kochi on Nov 30th, 2014. Successfully completed.
NICU – Crisis Resource Management: Successfully completed from Southern Health Simulation and Skills Center, Melbourne on October 2010
Neonatal Resuscitation Course: Successfully completed the coursed conducted in Southern Health, Melbourne on 23.07.08;
Neonatal Cranial Ultrasound Examination: Structured training with hands on experience, conducted in Southern Health in Clayton, November 2007 to January 2008.
Neonatal and Paediatric Ventilation: Summer 2005 – held on 9 &10 June 2005 in UK.
Intrapartum Fetal Surveillance Education (By RANSCOG) - Attended on 6th and 13th of September 2004
Advanced Paediatric Life Support (APLS) Course: Successfully completed the APLS course conducted in Melbourne, on 25- 27th June, 2004
AWARDS & ACCOMPLISHMENTS
Won the Best paper award for Practicing Paediatrician in Pedicon Kerala State Conference November 2016 – Ernakulum.
Best Clinical Case report, Cochin Clinical Society, India in 2001
Award for Best Paper in IAP Kerala State 26th Annual Conference, held at Kollam, India in 1995.
PUBLICATIONS
Anaesthetic challenges in managing a case of type III Laryngo-Tracheo-Esophageal cleft. Journal of Anaesthesiology Clinical Pharmacology
Patent Ductus Arteriosus Ligation and Post-operative Hemodynamic Instability: Case Report and Framework for Enhanced Neonatal Care. Indian Journal of Paediatrics
Respiratory and cardiovascular morbidity in the first 48 hours post-surgical ligation of the patent Ductus Arteriosus. Journal of Neonatal-Perinatal Medicine
Dry Lung Syndrome: A Distinct Clinical Entity. Indian Journal of Paediatrics.
Preoperative staging of patent Ductus Arteriosus correlates with postoperative hemodynamic instability. Archives of Disease in Childhood
Use of Milrinone in the Management of Haemodynamic Instability following Duct Ligation. European Journal of Paediatrics
Occlusive Aortic Arch Thrombus in a preterm neonate. Paediatric Critical Care Medicine
Interpreting positive cultures of endotracheal aspirates: Factors associated with treatment decisions in ventilated neonates. Journal of Paediatrics and Child Health
Hemodynamic alterations associated with Polycythemia and partial exchange transfusion. Journal of Perinatology
Renal failure from obstructive Fungal Mycetoma, and Fungal Sepsis in an infant. Indian Paediatrics
Immature Anterior Mediastinal Teratoma in a New-born. Journal of NNF Kerala –The New-born Emergencies.
An unusual case of Para-esophageal Bronchogenic cyst. Journal of NNF Kerala –The New-born
Tracheo-oesophageal Fistula – 12 year experience in a tertiary centre. Journal of NNF Kerala –The New-born.
Images in Clinical Practice: "Infantile Cortical Hyperostosis" (Caffey's Disease). Indian Paediatrics
Clinical Images: Collodion Baby, Hallermann-Streiff Syndrome, Rubinstein Taybi Syndrome, Sirenomelia. Journal of NNF Kerala –The New-born
Congenital Cystic Hygroma. Journal of NNF Kerala –The New-born