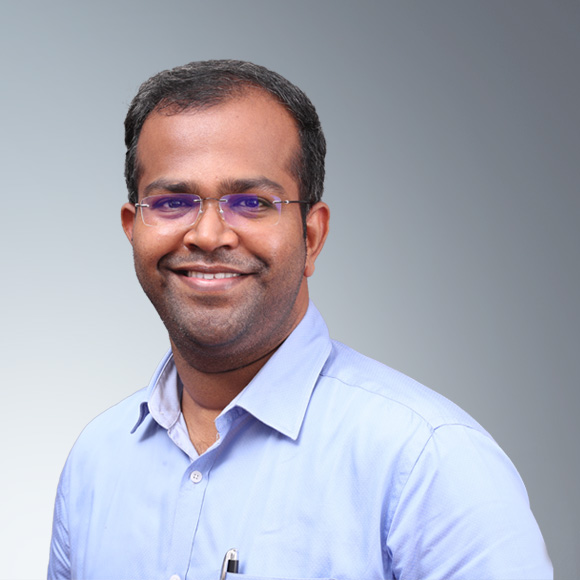 Dr. Jino Joy
Consultant Geriatrician
Dr. Jino Joy is a Consultant Geriatrician at Medical Trust Hospital, Kochi. He did his graduation (MBBS) from the St. John's Medical College, Bangalore and did post-graduation (MD) in Geriatrics at the prestigious Christian Medical College, Vellore. His special interests include Neurodegenerative conditions –including Parkinsonism and Alzheimer's, Falls & Frailty assessment, End of Life – care, Healthy Ageing and Preventive Geriatrics.
---
MEDICAL QUALIFICATION
DOCTOR OF MEDICINE (M.D.) in GERIATRICS
Christian Medical College, Vellore
BACHELOR OF MEDICINE AND BACHELOR OF SURGERY (M.B.B.S)
St. John's Medical College, Bangalore
DOCTOR'S EXPERIENCE
Geriatrics- Resident at Christian Medical College Hospital, Vellore~2017-2020
Attended patients with acute to chronic medical issues in outpatient clinics and wards. Was posted in specialty units with exposure to state of the art modalities of care. Worked with a multi-disciplinary team to provide better care for older persons.
Medical Officer and In charge Physician at Mercy Hospital, Chengalam, Kottayam~2013-2017
Was Instrumental in expanding services to include dedicated out patient service for older persons and in-patient palliative care service. Also was involved in managing geriatric patients under a long term care facility attached to the institution.
RESEARCH EXPERIENCE - PUBLICATIONS
Probable Mental Illnesses among Tea Plantation Workers in Anaimalai, Tamil Nadu, South India. International Journal of Community Medicine and Public Health, [S.l.], v. 4, n. 4, p. 982-986, mar. 2017. ISSN 2394-6040.
Mental Health Status of Workers in Selected Tea Estates, Tamil Nadu, India. International Journal of Occupational Safety and Health, 5(2), 23 -27. Ashwini, G., Ramesh, N., Navya, C., Joy, J., Thomas, A., & Jyoti, S. (2017).
Influenza and Pneumococcal Vaccine Coverage among High Risk Hospitalized Elderly – 2017, Podium presentation at GERICON 2017 - The National Geriatrics Conference held at AIIMS, New Delhi, Published in Journal of Indian Academy of Geriatrics, December 2017.
Levofloxacin Lowering Seizure Threshold in Older Adults; a Case Series J Joy, B P Wilson, University Journal of Medicine and Medical Specialities, 2020.
Outcome of Illness and Financial Burden of Influenza in Hospitalized Elderly Patients – under review for publication.
NON-ACADEMIC AREAS OF INTEREST
NATIONAL LEVEL PHILATELIST with various acknowledgements and prizes.
Actor, Director with MAD MED MEN Inc. - A Bangalore based Medical Humour Theatre Group.
Entrepreneur, Co-founder and Head of Business and Logistics at ALTERDOCTORS LLP, Bangalore.
Philanthropist, Co- Founder - "SnehapoorvamMannar" Charitable Trust for Children with Cancer.
Motivational speaker, Quiz Master and Medical Career guidance expert featured at various student / youth camps across the country.